Holiday Waste & Recycling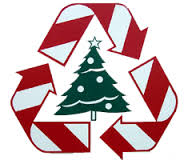 The Holidays are upon us which usually means an increase in household waste.  Please review our Waste 101 flyer or our Holiday Recycling Guide.  Although, here are a few highlighted items to keep in mind when recycling holiday waste:
Trees, Wreaths, Garlands, Swags, and Flowers/Poinsettias can all go in your Mixed Compostables cart.  Please remember to remove all wires, bows, and lights before placing in cart.
Your food scraps (including turkey carcasses) and soiled paper (plates, napkins, paper towels – must be 100% paper – no wax coating) can go in the Mixed Compostables cart.
Recycle all wrapping paper in your Blue Co-mingled Recycling Cart, but please remove bows and ribbons.
Holiday Service Schedule:  There will be no service Christmas, December 25 or New Year's Holiday, January 1.  Both those holidays are Monday's.  If your regular service day is Monday, it will be one day later ending on Saturday.  All service days will be effected this year being one day later than your normal service day.